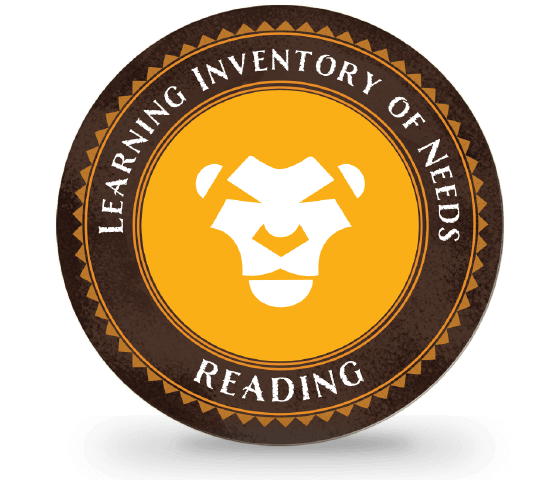 LION/LEON
The Learning Inventory of Need (LION) in English and Spanish (LEON), is a comprehensive, adaptive reading assessment for students grades KG – 12 (KG – 6 for Spanish).  Student results include an independent and instructional reading level for fiction and nonfiction, as well as foundational focus skills to assist teachers in remediation, enrichment, and guided reading lessons.  The complete suite of results provides teacher lesson plans, small group activities, student-based online games, and leveled running records for one-on-one sessions.  A complete and comprehensive literacy RTI/MTSS tool.

LION for Reading Parent Letter Resources
Your student's school is using LION for Reading to assess reading progress.  LION for Reading will help improve reading by tracking:
Reading Levels
For most students, LION will find a reading level on both fiction and nonfiction type passages. Knowing your child's reading level is critical to finding "just right" books to improve his/her vocabulary and ability to read connected text. Students who attempt to read at levels higher than their ability are often frustrated and avoid reading altogether. We want to build their confidence and love of reading by finding that perfect level that will challenge them but keep them feeling successful.
Foundational Skills
Once we know their reading level, LION will measure skills that are most predictive of reading success. These skills are at their reading level, so we are able to meet your child where they are – and help them make progress.
Reading Improvement
The most important way you can assist your student in progressing through the stages of reading is to set aside at least 30 minutes each day to read with your student. It doesn't have to be a book – it can be a comic strip, newspaper article, or anything else that is of interest. Discuss what you think will happen in the passage you are reading together, brainstorm questions you both have, and stop periodically to summarize what you have been reading.
Online Resources
There are several online resources to help you find the book that will best help your child feel successful when reading. On the letter you received from your school, you should have your student's unique LION Literacy Level (LLL) and how it translates to the resources below.